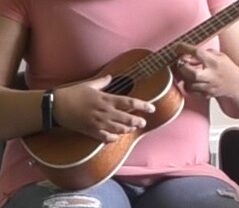 In the music sessions at Limpsfield Grange we have been exploring the idea of musical signatures. Everyone has a unique way of saying and writing their name, and a unique sound or tune to create.
We also created a musical signature for their school by working as a band and considering the initials LG. What does LG stand for? Lovely girls – lively girls, we think.
In these two recordings you can hear all six members of the group playing as a creative ensemble, adding melody, ukulele chords, percussion and a central drone to the music – composing and improvising. You can also hear their musical signatures.